Reclaimed Engineered Wood Flooring Crafted by Artisans
A thicker-than-usual wear-layer that's just as durable as Rustic Character or Refined Classic surfaces in Solid Floor options - but with Benefits!
Our engineered floors should not be compared to cheap, imported laminate flooring. We offer a premium product that will last a lifetime or longer. Our engineered floors are designed to glue directly to concrete, apply over radiant heat or be used in areas with extreme climate fluctuations. If not being installed for one of these applications, our solid flooring is less expensive and all you need.

Whether you're looking for engineered barnwood flooring with a rustic aesthetic or clean, premium engineered Heart Pine flooring with tight grain, Whole Log Reclaimed has a product that beats anything else on the market.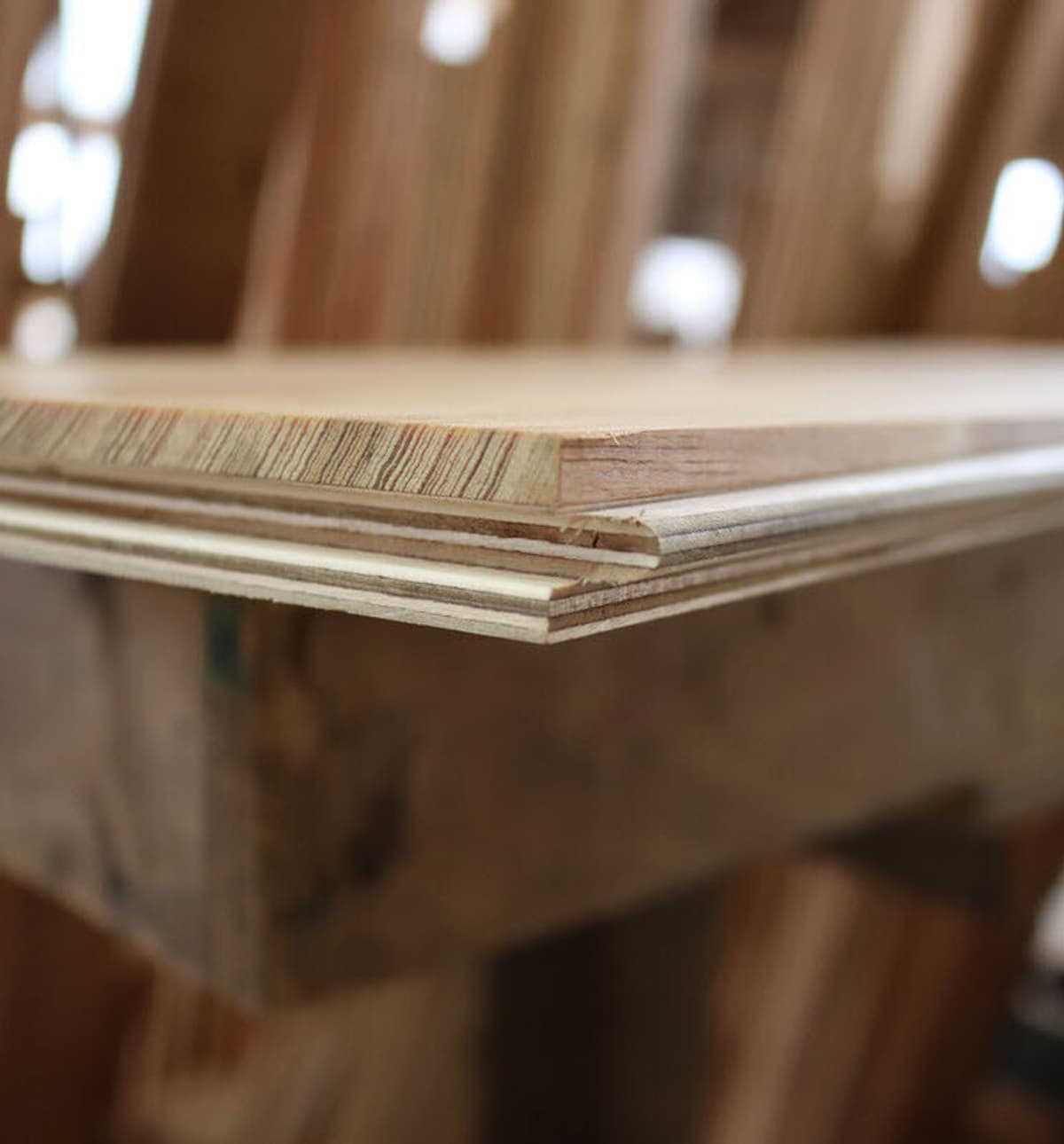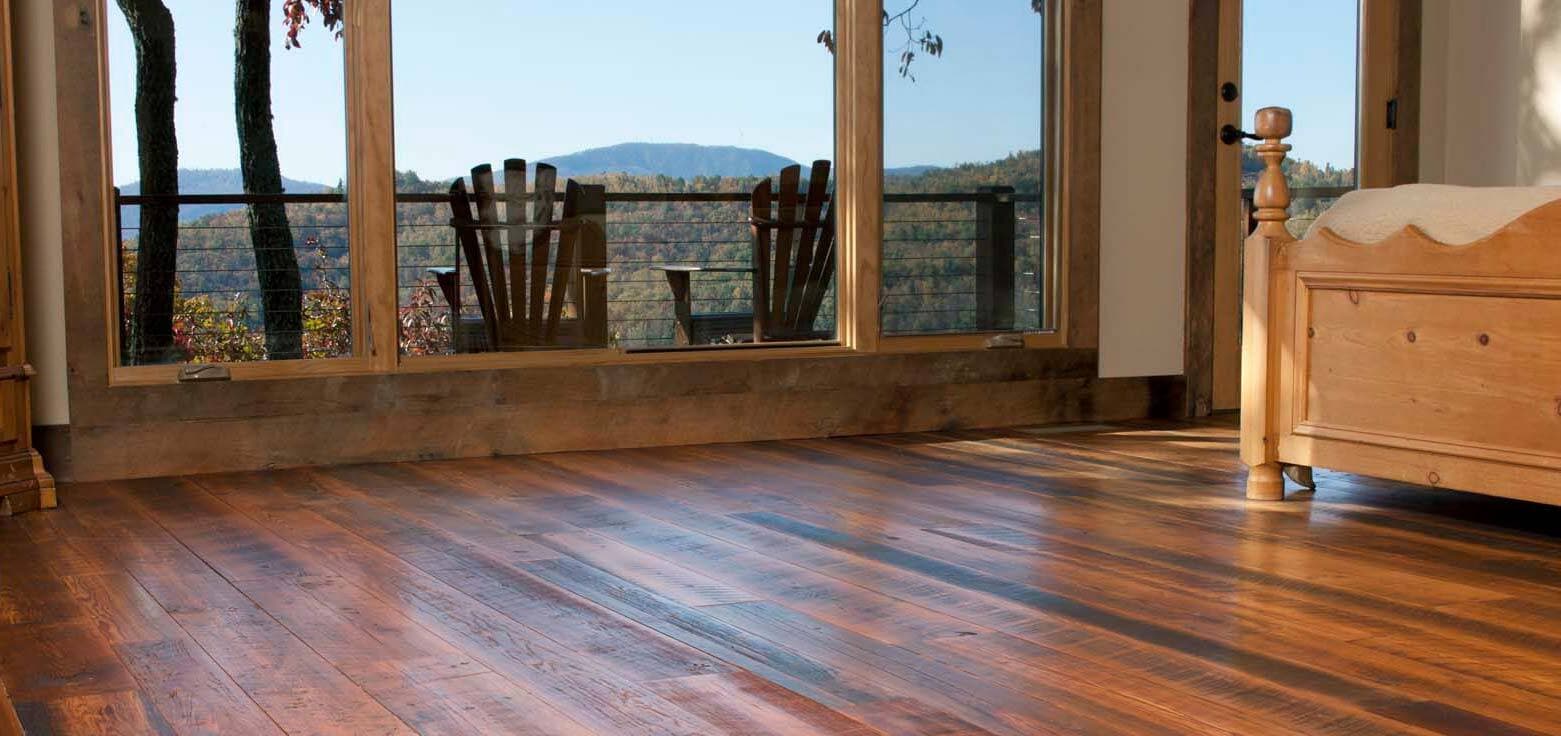 What is Engineered Flooring?
Engineered wood flooring is not solid wood flooring through-and-through, but instead a wood veneer or "face" that's bonded to a substrate to create a board or plank of flooring.
Whole Log Reclaimed uses a ¼" thick wear-layer which is far thicker and more durable than most you'll find on the market. This upper face is bonded with environmentally friendly VOC-free glue to premium baltic birch plywood that has 9 layers of alternating grain direction, which creates more stability. The resulting composition provides plank equilibrium and ensures less expanding or contracting due to seasonal temperature and humidity changes.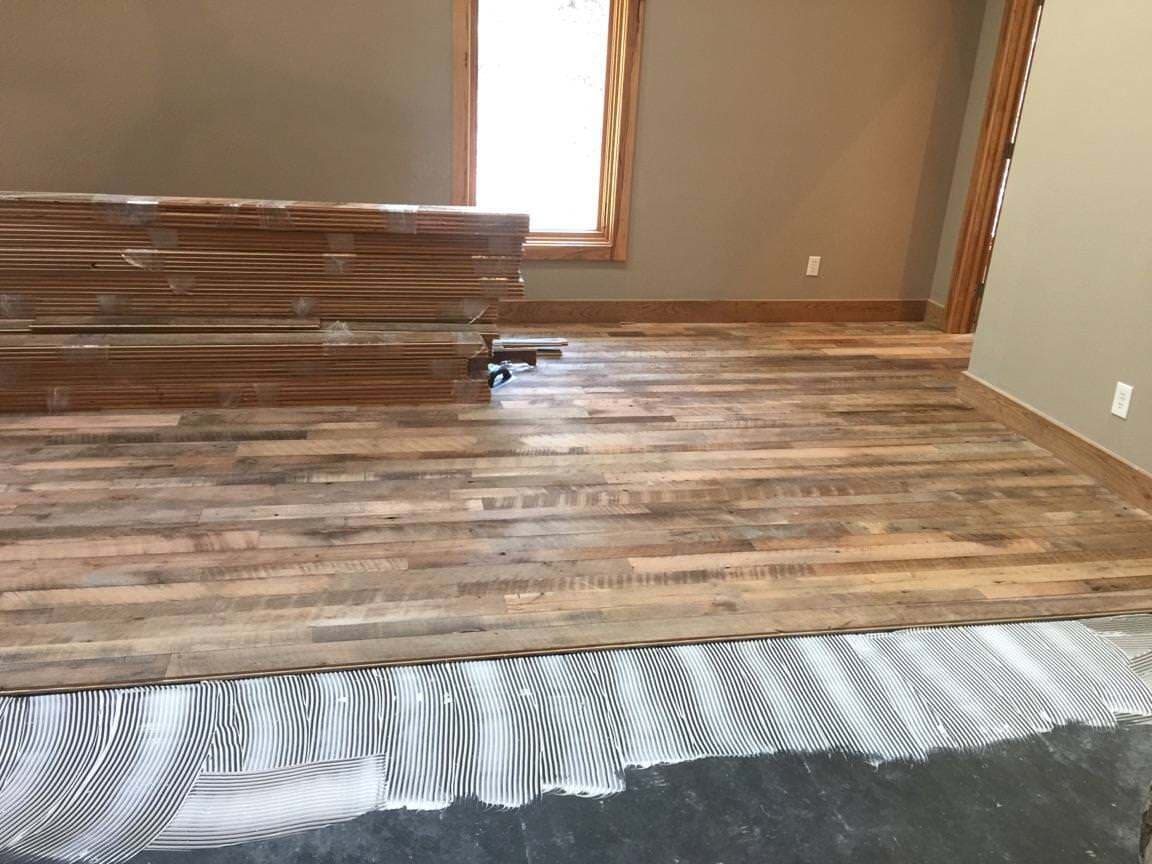 What is Reclaimed Engineered Wood Flooring?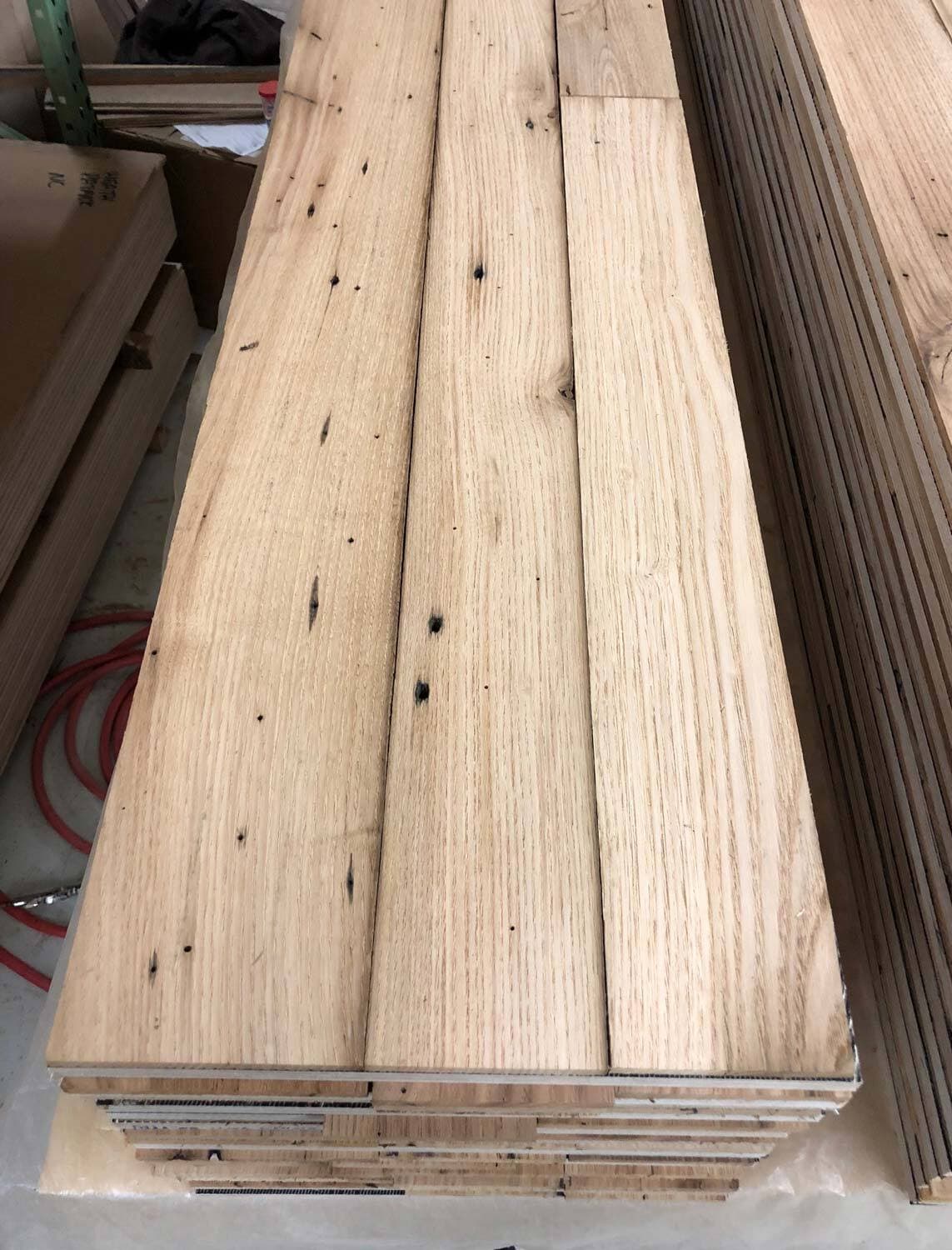 Reclaimed engineered wood flooring uses reclaimed wood for the "face" or surface layer, rather than unremarkable lumber that's been mass produced in large quantities for typical engineered flooring on the market today.

Reclaimed wood is distinguished by its use previously for different purposes and then salvaged for repurposing. We specialize in upcycling antique lumber that was first harvested generally 100+ years ago from virgin forests. barnwood is very popular to repurpose and we do offer engineered barnwood flooring as a result and we do offer a more refined aesthetic with our engineered classic wood flooring.
Reclaimed Engineered Wood Flooring Sources:
Barnwood and Agricultural Buildings
Industrial Factories
Warehouses
Wine Casks
Antique Infrastructure
Log Cabins and Homes
And many more...
Reclaimed wood is repurposed from these sources that have been demolished or removed. This lumber has seasoned for many years, so it is much more stable than wood recently harvested. Straight off of a deconstruction site, often the salvaged wood can look very rough and unusable, but we have the eye to see the beauty in the character and the skills to craft this material into all usable reclaimed engineered wood flooring.
Why Choose Reclaimed Engineered Wood Flooring
Choosing a reclaimed engineered floor may be the best option for your home or business, for functional as well as aesthetic reasons.
Application over Concrete Slabs
Typically, it's not a good idea to glue down a solid wood floor directly to concrete. Wood needs to be able to seasonally expand and contract a fair amount while concrete hardly moves. The result can be gaps or cracking in your floor. The solution is to either install a wood subfloor or install engineered wood flooring which is a much more stable product with less seasonal movement. By choosing to use an engineered product you can save substantial money and time on your project by eliminating the need for a wood subfloor.
Ideal for Radiant Heat Floor Systems
Engineered wood is perfect over radiant heat floor systems. Its layered construction makes it extremely stable and will not move nearly as much as solid wood due to temperature variations.
Locations with Extreme Seasonal Temperature and Humidity Variations
If you live in a region that has great seasonal or even daily fluctuations in weather and you have issues keeping your location climate controlled, engineered reclaimed flooring is a good choice. Whether the conditions are hot and humid or dry and cold, the cross-laminated layers of the floor will expand and contract far less than a traditional solid option.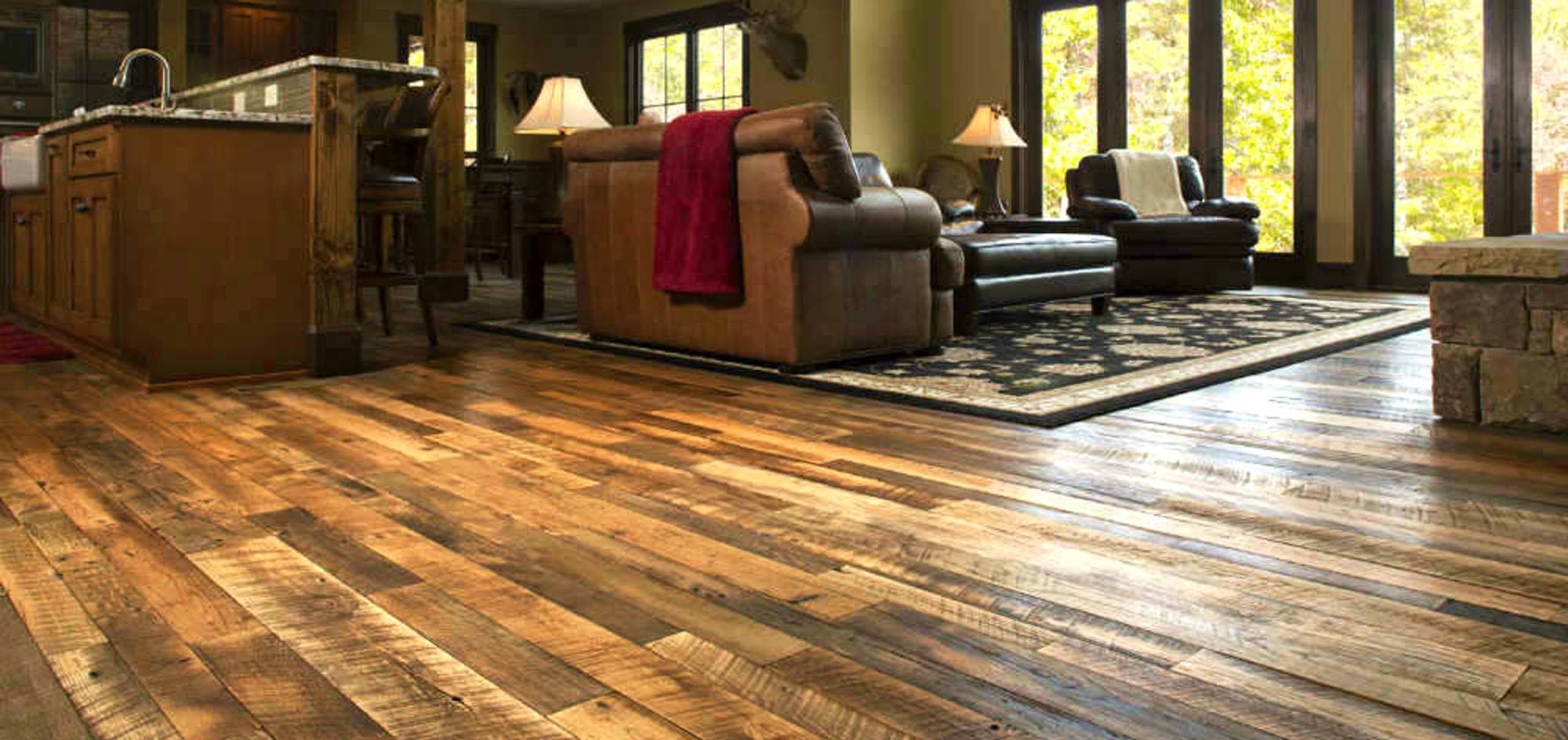 Reclaimed Engineered Floor Installation
Engineered flooring can be installed over a radiant heat floor, a concrete slab, or wherever you are looking to bring the aesthetic of reclaimed wood to your home or business. The engineered flooring can be site finished in place, or purchased pre-finished in quantities over 1000 square feet.
Read the Installation Guide
READY TO GET STARTED?
When you're ready to get started, give us a call or fill out the Request a Quote form. We'll call you to answer any questions you might have and place your order.