Finishing Oils: Protection for Reclaimed Wood
Whole Log Reclaimed recommends natural oil finishes in order to maintain reclaimed wood quality in a way that is both healthy and natural.
We are happy to advise on the appropriate wood finish for your project. We are a distributor of Woodcare of America (WOCA) products, and we recommend their VOC-free oils with penetrating and hardening properties that strengthen and protect wood from the inside out. We do not recommend finishes that create a topcoat film that wears away over time or contains toxic chemicals.
We also offer prefinishing for Mantels and Beams that uses the same WOCA products we recommend for Floors.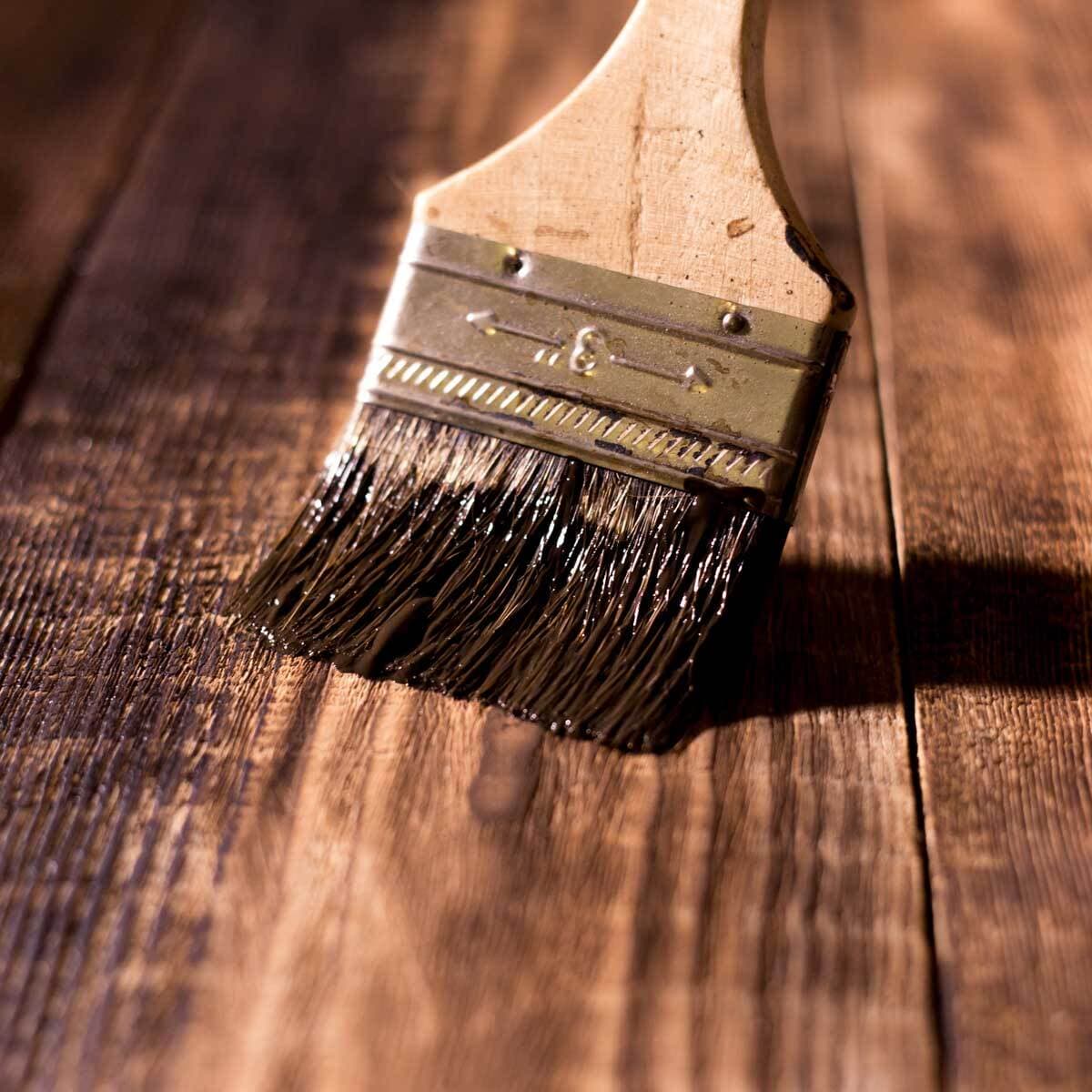 Wood Color and Natural Oil Finishes
Natural color oils react differently depending on the wood type/ species they're applied to. Even the same color on the same wood type will present differently depending on whether it's a rustic character or classic smooth surface. Here are a few examples:
WOCA Master Color Oils are vegetable based and have no volatile organic compounds (V.O.C.s). Available in 10 colors that can be freely mixed for a custom wood tone or simply used alone, these color oils replace the need for applying a stain first.

Natural
White
Extra White
Castle Grey
Extra Grey
Light Brown
Brazil Brown
Rhode Island Brown
Walnut
Black
As a distributor for WOCA, a salesperson will help you choose the color(s) to best complement your wood selections. If you desire, we can provide you with custom samples for a reasonable fee, which can later be applied to your order. When necessary, we'll provide instructions and guidance until your installation and finishing is completed. Oil and Wood are sold separately.
Benefits of Finishing Oils
VOC-free (non-combustible) and environmentally friendly. These vegetable based wood oils are good for wood and safe for you.
A natural smell and touch. No out-gassing with WOCA! Plus easy clean up with soap and water!
Touch-ups are easy when needed. WOCA penetrating natural oils resist permanent damage by heavy wear, nicks and cuts. Even scratches made by your dogs nails can easily be blended into the floor texture with a simple spot reapplication.
Easy to use – Easy to maintain. WOCA Oil Finishes can easily be refreshed from time to time without a hassle, and if properly maintained you should never need to sand or refinish your floor again.
No chipping or peeling. This is not a film finish that rests on the top of wood to create a protective barrier. One of the best features of a natural oil finish is its ability to absorb and enhance the natural beauty of wood at a molecular level, and produce a patina that ages with the wood and never acquires the dull look that can occur with surface finishes.
Extra protection when needed. In heavy traffic areas or when a little extra protection is desired, WOCA Diamond Oil, with a higher solid compound content, delivers a harder surface finish than the Master Color Oils.
Maintenance is simple. Floors can be damp mopped, which won't harm the finish, but you'll want to take advantage of WOCA's maintenance soap and refresher oils which will provide superior results when needed.
Top Hardwood Floor Finishing Choices
This chart is meant as a guide only and is not intended to be a complete listing. Your own research may be warranted.
Penetrating Hardening Oil
Wax or Oil Finish
Water-Based Urethane
Oil Modified Urethanes
Moisture-Cured Urethane
Polymerized Tung Oil
Brand Names:
Bio-Shield (VOC)
Watco
WOCA
Benjamin Moore
Bio-Shield (VOC)
Cabot
Linseed Oil
Monocoat
Penofin
Tung Oil
Benjamin Moore
Bona Kemi
Buckeye Areva
Cabot
Dura Seal
Helmsman
Minwax
Safe Coat
Sherwin Williams
Buckeye Areva
Coliseum
Crystal Cote
Minwax (Water based)
SIKA Floor
Water Lox (not Tung Oil)
Synteko
Old Master
Water Lox
Durability:
Excellent
Good
Very Good
Very Good
Excellent
Good
Odor:
Mild
Mild to Strong
Mild
Moderate
Very Strong
Strong
Color:
Slight Amber,
Some Have Tints
Slight Amber
Clear to Amber
Amber
Clear to Amber
Clear to Amber
Dry Time:
24 Hours
Varies
Fast
Slow
Slow to Fast
Moderate
Combustible:
NO – CARE must be maintained when disposing of any application materials.
YES – CARE must be maintained when disposing of ANY application materials.
NO – CARE must be maintained when disposing of any application materials.
YES – CARE must be maintained when disposing of ANY application materials. Solvent evaporates as it cures.
YES
YES
Finish Look:
Wax Luster
Wax Luster
Satin to Gloss
Satin to Gloss
Satin to Gloss
Wax Luster
Water Spots:
Removable
Water Spots
Water Spots
Water Spots
Water Spots
Water Spots
Maintenance:
Low
Moderate
Low
Low
Low
Notes:
May or may not be penetrating
May dry thicker, scuffs
Professional Application Required