Reclaimed Wood Beams are for Design, Not Just Structure Anymore.
Wood beams were once the backbone of old barns and buildings across America. While they are no longer structural, hand hewn beams support good design and rustic beams frame stylish ceilings.
AVAILABLE EITHER SOLID OR ENGINEERED
Before modern woodworking equipment standardized the process, wood beams were rough sawn or hand hewn with simple tools that left imperfect cuts.
The resulting imprecise effect is responsible for a large part of beam appeal and why exposed beams in vaulted ceilings have regained popularity. It's also what ensures each beam is unique.

Today reclaimed wood beams are no longer used for actual structural support but instead supply architectural accents in homes and commercial spaces. Decorative ceiling beams are especially popular whether solid construction or a lightweight wood beam wrap.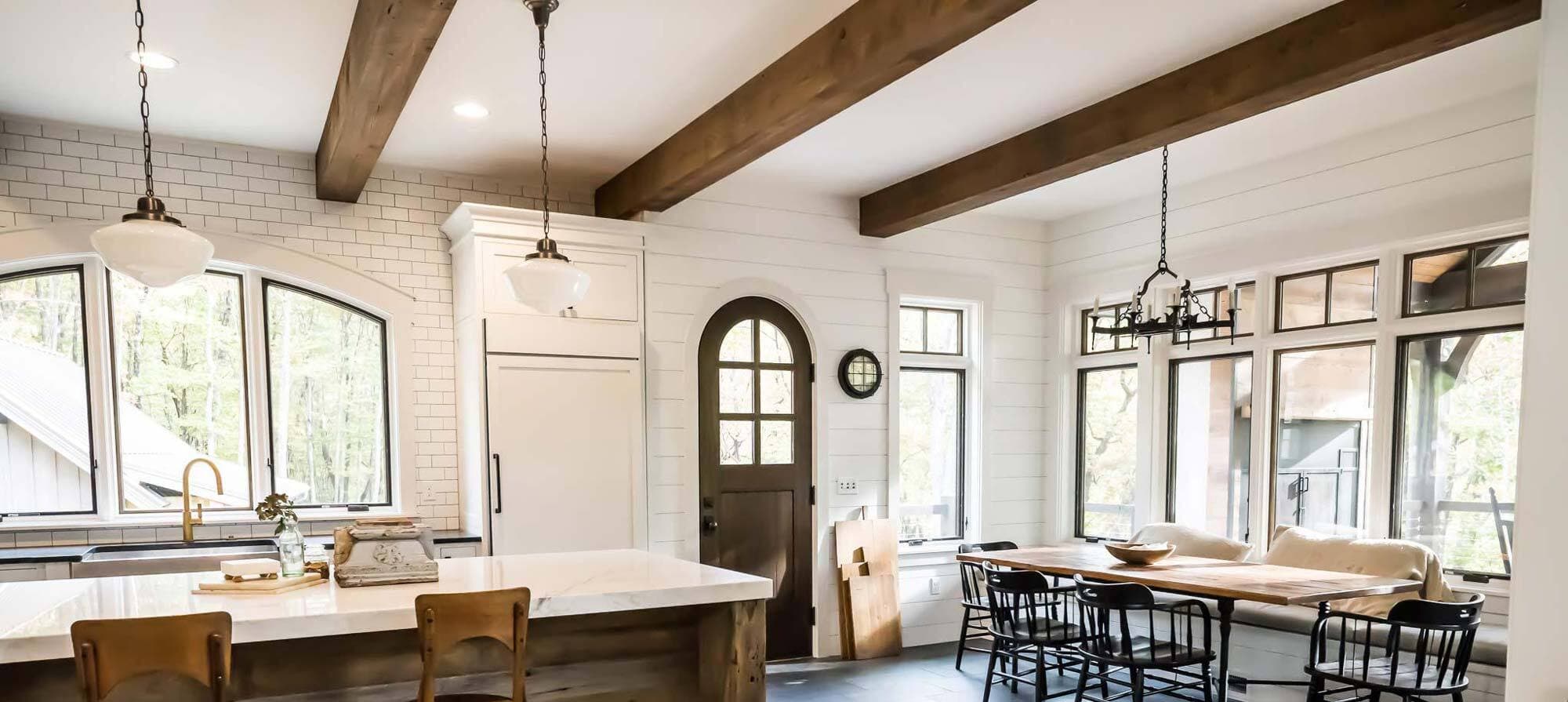 Beam Textures
Texture, rather than tree species, is what defines the unique character of each reclaimed wood beam style. We offer four surface textures for both solid and box beams: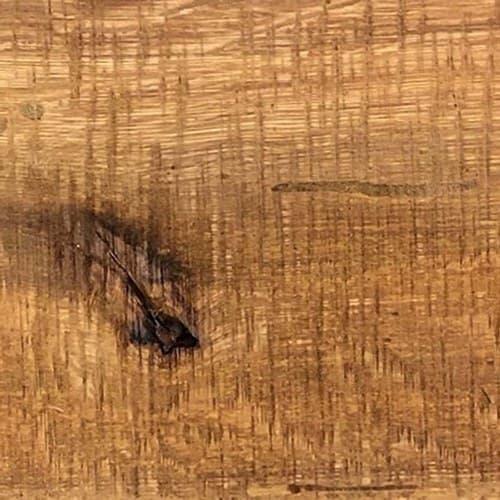 Band Sawn
Cutting a timber with a bandsaw leaves rough straight lines perpendicular to the grain on the wood. This is a great rustic texture that is much finer than hand hewn and our process generally shows a bit more of the grain than circle sawn. So, this texture lends itself very well to hardwood species, such as Oak. Customers can enjoy seeing how our coloration and aging process accents the grain in some areas of the beam while the bandsaw leaves a much more rustic texture than smooth planed.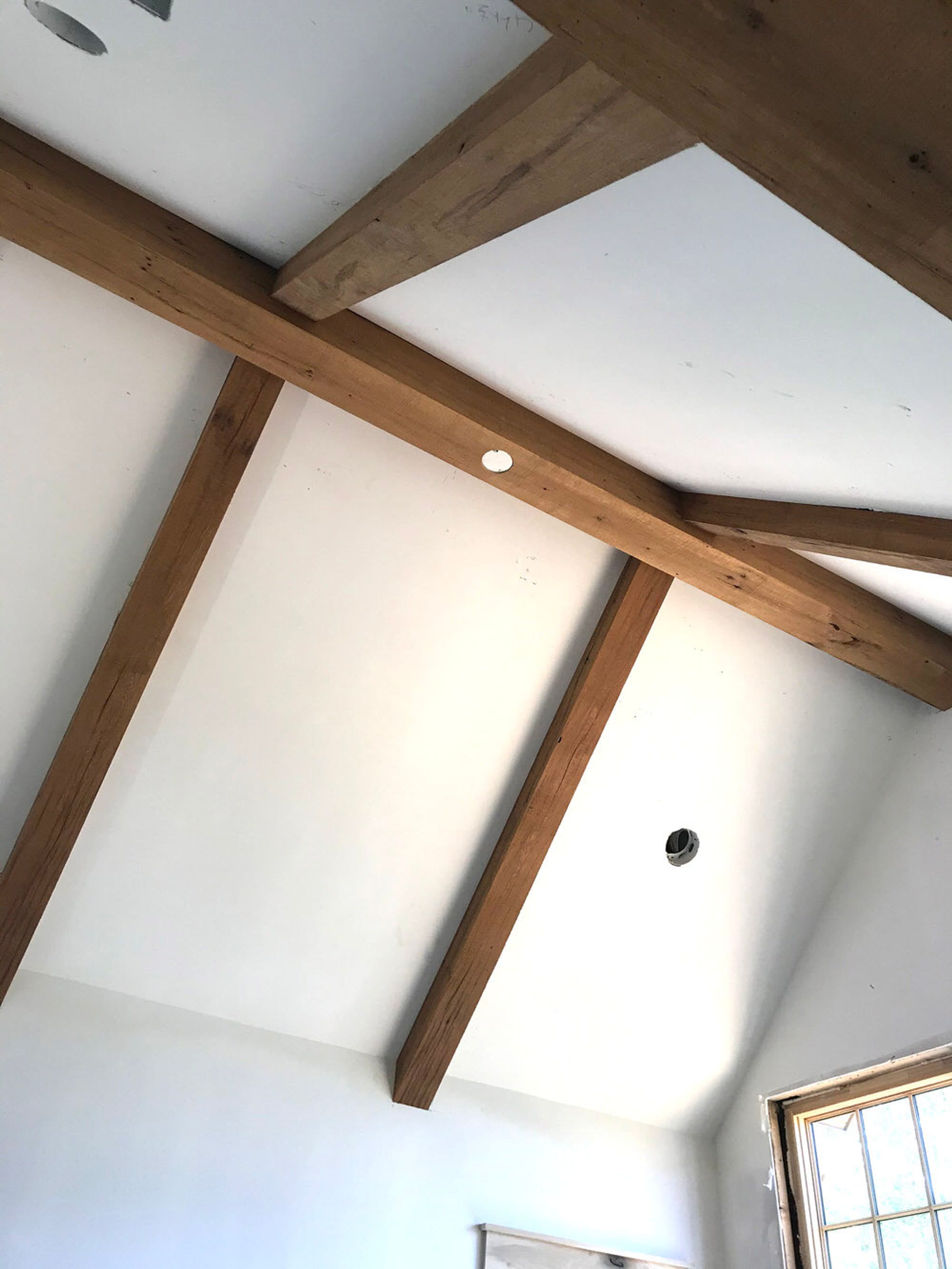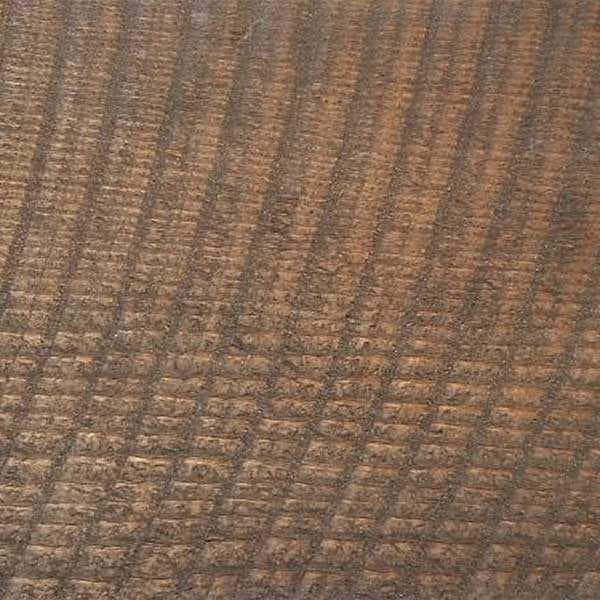 Circle Sawn
When one thinks of a saw blade, generally what comes to mind is a circular saw. These big blades are generally 36" in diameter or more and leave graceful, arching patterns on the beam. The texture is much finer than hand hewn, but still rough enough to give a nice rustic look. Large old hardwoods are very tough on the teeth of circle caws, so we offer this texture in softwoods such as reclaimed Douglas Fir. The rough cut usually masks the grain on the wood and, along with our coloration and aging process, it is tough to discern species anyway.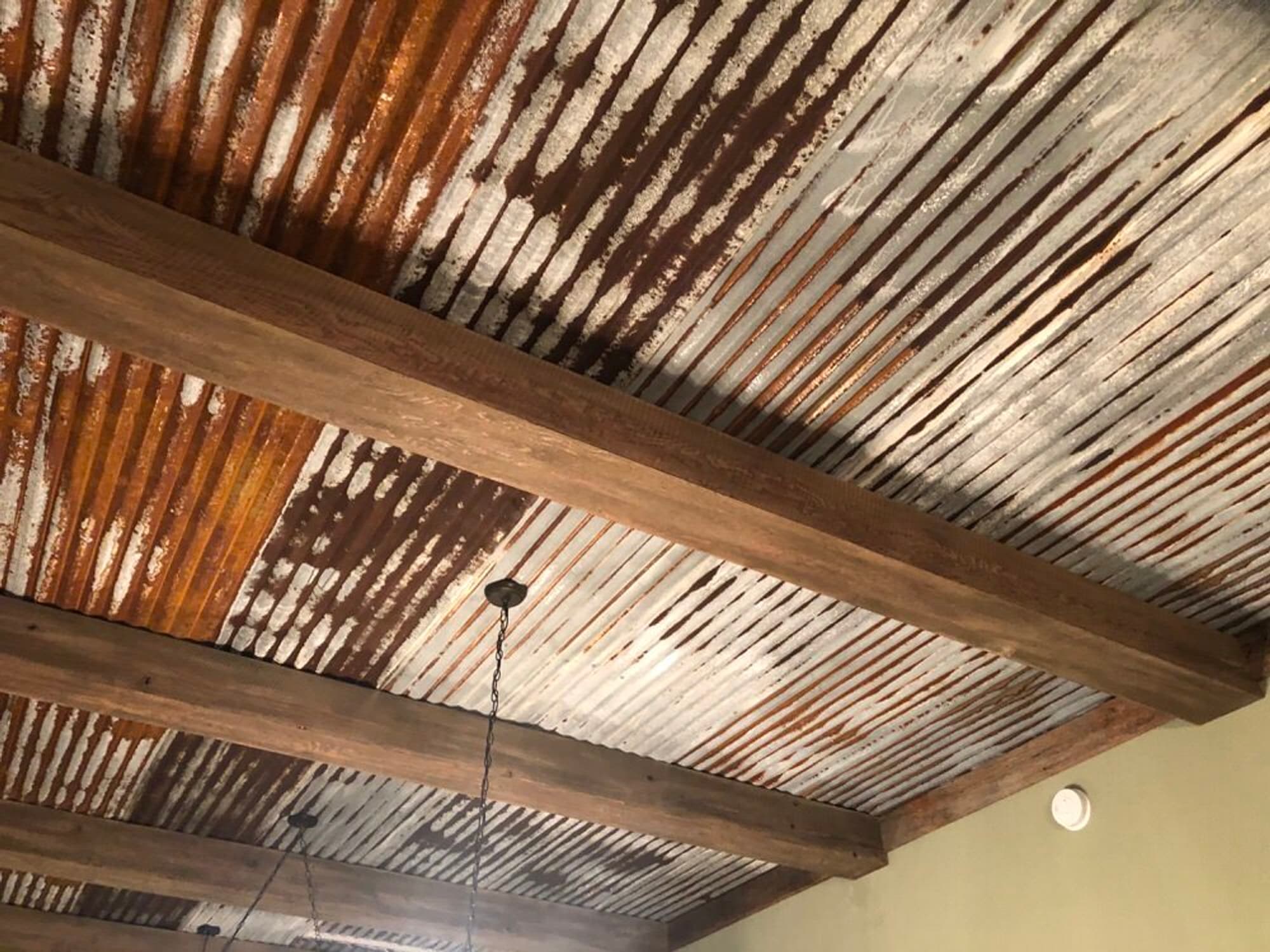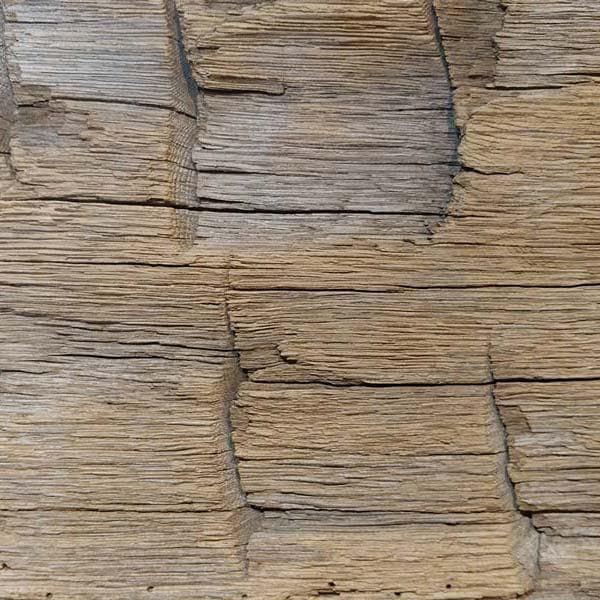 Hand Hewn
Hand hewn rustic beams were cut and hewn with broad axes and simple hand tools in locations where primitive sawmills were not available or not used. Hand Hewn reclaimed barnwood beams are recovered from historic structures that often date back to The Civil War, if not earlier. Due to the use of hand tools, sizes can be inconsistent and surfaces irregular with clear adze and axe marks. Hand Hewn timbers generally have mortise pockets chiseled into them as well where they met with other timbers in the original structure. We can fill these voids with authentic reclaimed patches if the customer desires. Species of these beams vary greatly as the pioneers used whatever trees were growing in the forests nearby. Most timbers are hardwoods, but it is the aged patina that you see and even experienced woodworkers are hard-pressed to be able to discern species.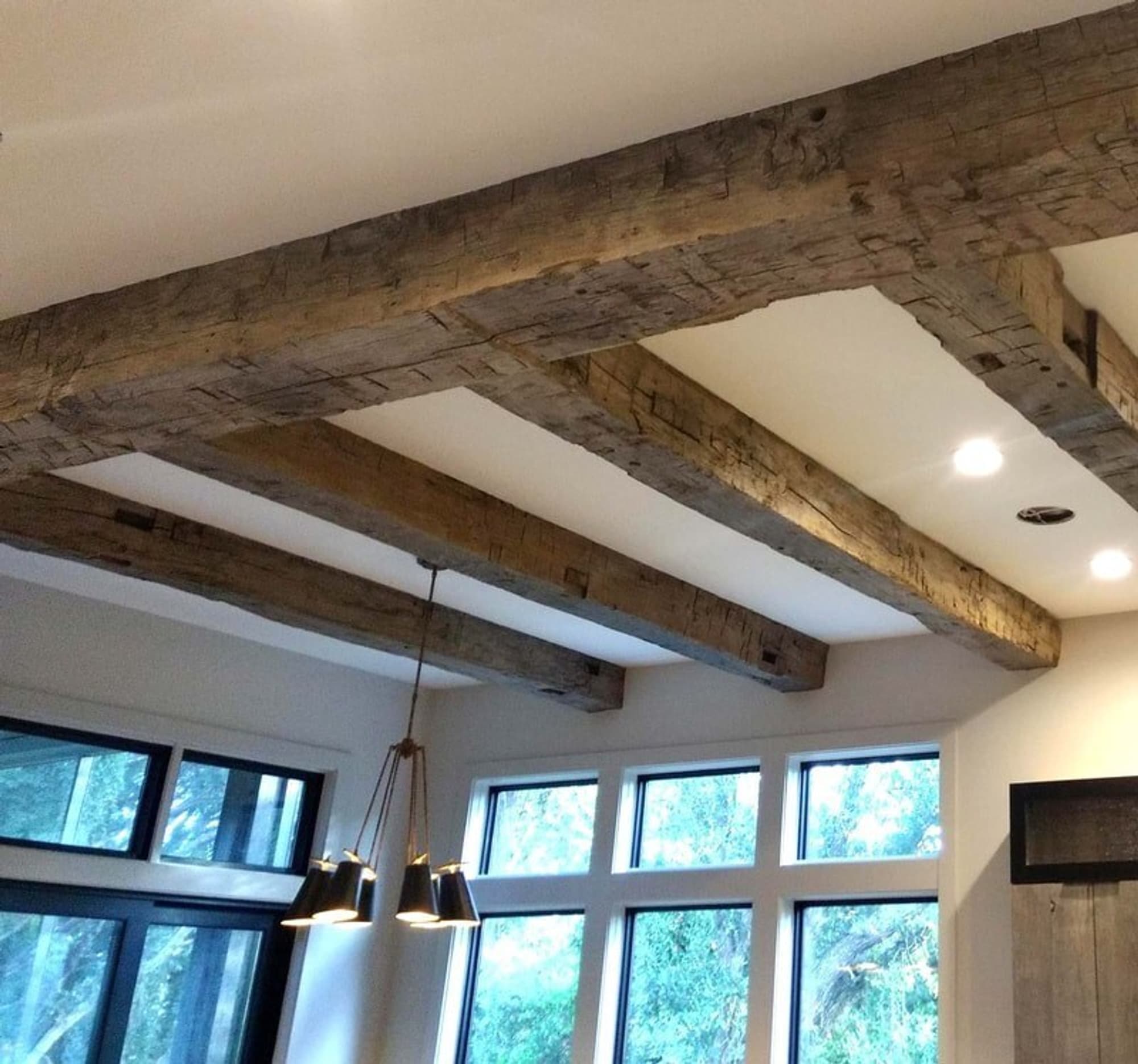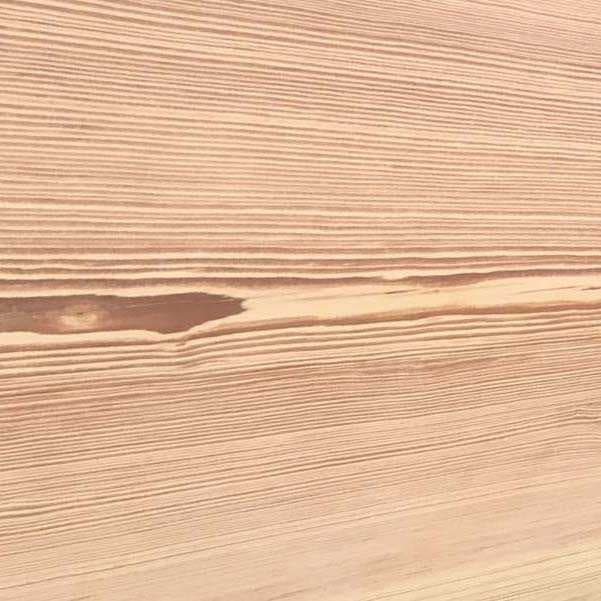 Smooth Surface
A smooth texture is created by planing away the rough surface to expose the grain of the wood. Once removed, the smooth beam shows off the subtleties of the interior grain patterns and its rich natural color, which we call "the mystery within the wood." While the surface may be what we call "planed clean", you will still be able to tell these beams are reclaimed due to the non-structural cracks or "checks" that formed in the wood as it aged over the years along with possible nail holes, bolt holes and mortise pockets that are left behind from where the structure was fastened together. These irregularities can be patched or filled, if you wish, but will never truly disappear. Our craftsmen are experts in working reclaimed timbers and celebrating the marks of history. If your taste is one that wishes to have minimal irregularities on the faces of your beams, we suggest reclaimed Heart Pine as these timbers generally had long spans without intersections that needed joinery and are usually less cracky than hardwood species.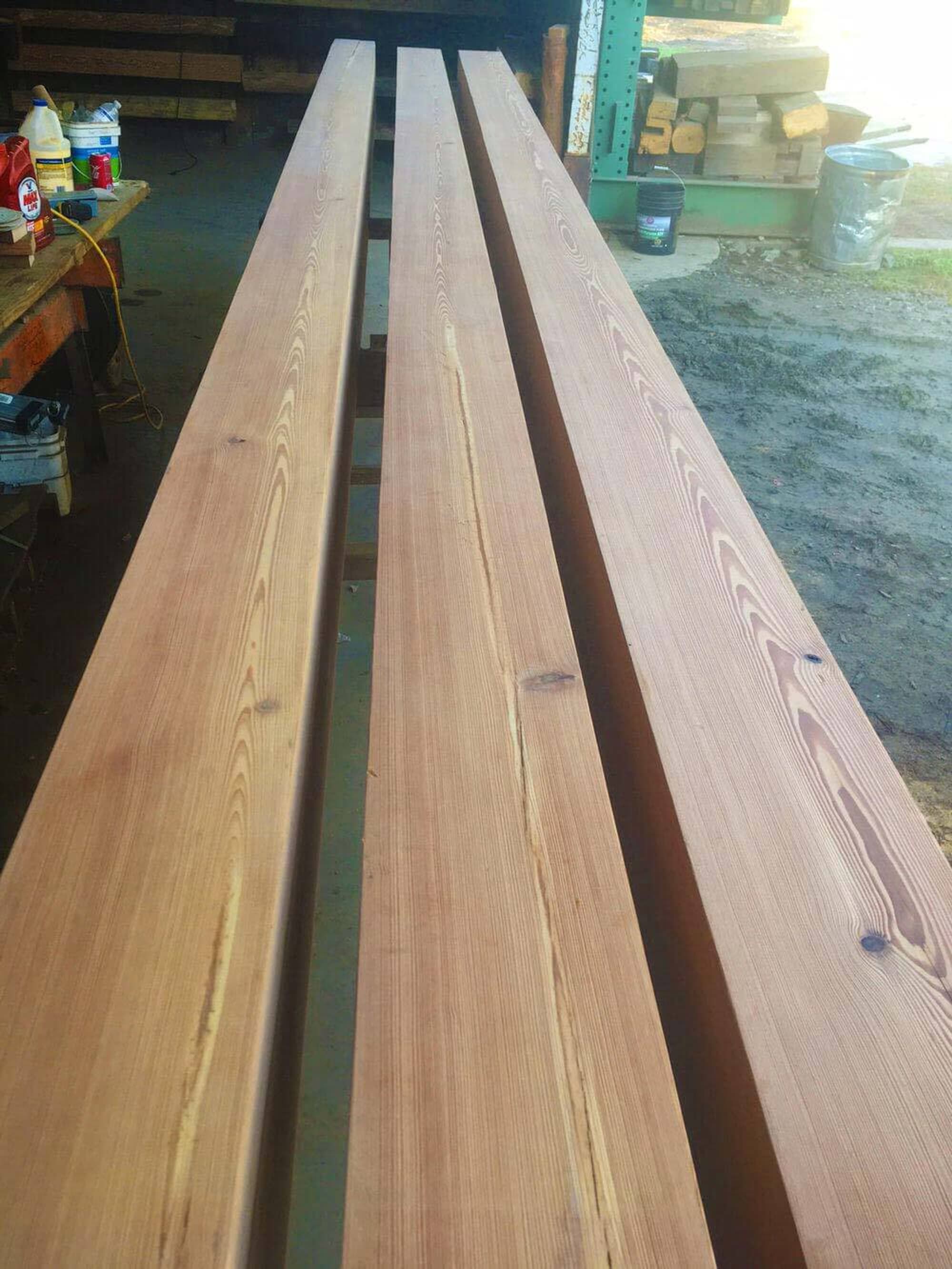 RECLAIMED BEAM WOOD SPECIES
How the beam will be used - as a solid wood beam or box beam - can affect the surface texture, and the surface texture choice often dictates the wood species best used.

With hand hewn beams and rustic sawn or original surface textures, it can be difficult for an untrained eye to identify between specific wood species. Early builders didn't always find it necessary to discriminate and use just one wood species for a project - especially building barns. Size conformity was the big factor. And if deconstructed from the same location, a variety of different species may today look very similar after aging for many years under similar conditions.

When choosing a band sawn or a smooth surface texture, the wood species is more easily discernible, and may be a more important consideration.

Wood beams we acquire include the reclaimed hardwood Beech, Chestnut, Cherry, Elm, Hickory, Maple, Oak, Poplar & Sycamore - plus Heart Pine and Douglas Fir, which are considered softwoods, but used efficiently in box beams and wraps.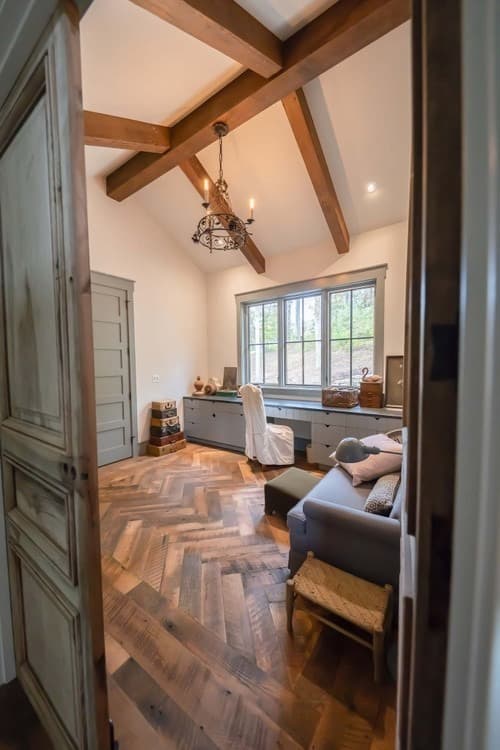 Our Process
Reclaimed wood beams are carefully salvaged from old buildings and large barns. Whole Log Reclaimed sources old beams that were often a couple of centuries mature when first harvested another 100+ years ago or more. Great texture and grain structure, with average beam dimensions that range from 4" x 4" up to 12" x 12" and even sometimes larger. We can kiln dry timbers up to 27' long.

Deconstructing old structures is a delicate process in order to maintain the integrity of the wood. Removing and transporting wood beams is a project in itself considering that one reclaimed solid beam 10" x 10" x 15 ft long can weigh roughly 500 lbs!
Once we've recovered the beams and transported them back to our facility, we remove the nails, wire brush the dirt off and kiln dry them. Though reclaimed beams have seasoned for decades or even centuries, which makes them very stable and unlikely to warp or shrink, it's still important to kiln dry old wood in order to kill powder post beetles or other critters that may have hitchhiked on the timbers.
Once the restoration or milling process is complete, we're ready to deliver or ship solid or box beams from our Western North Carolina workshop to your home or business.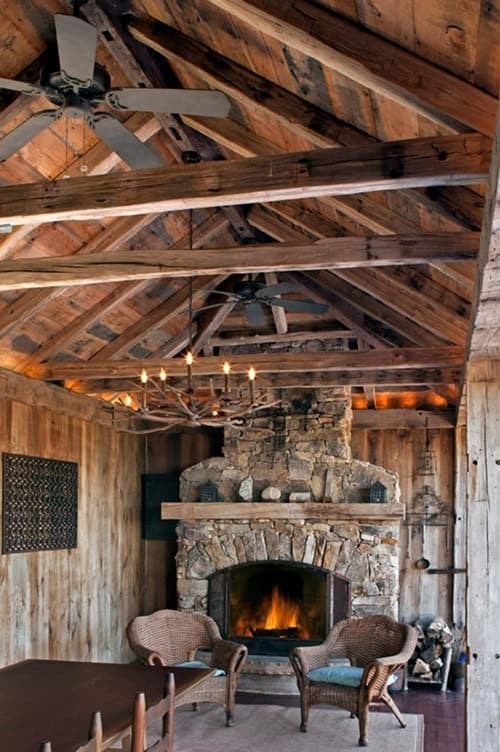 View More Photos