Reclaimed Box Beams and Beam Wraps
Achieve the look of solid beams without the hassle, with hollow box beams and wood beam wraps.
Box beams or wood beam wraps are a beautiful solution for adding reclaimed wood accents to ceilings and walls, especially if your home or business interiors contain unsightly ductwork or elements you'd rather cover up.
Our box beams and wraps are expertly crafted from reclaimed wood and timber at our mill in Western North Carolina. Beams and wraps are available in four distinct surface textures dictated by how each timber was originally cut and sawn decades or even centuries ago.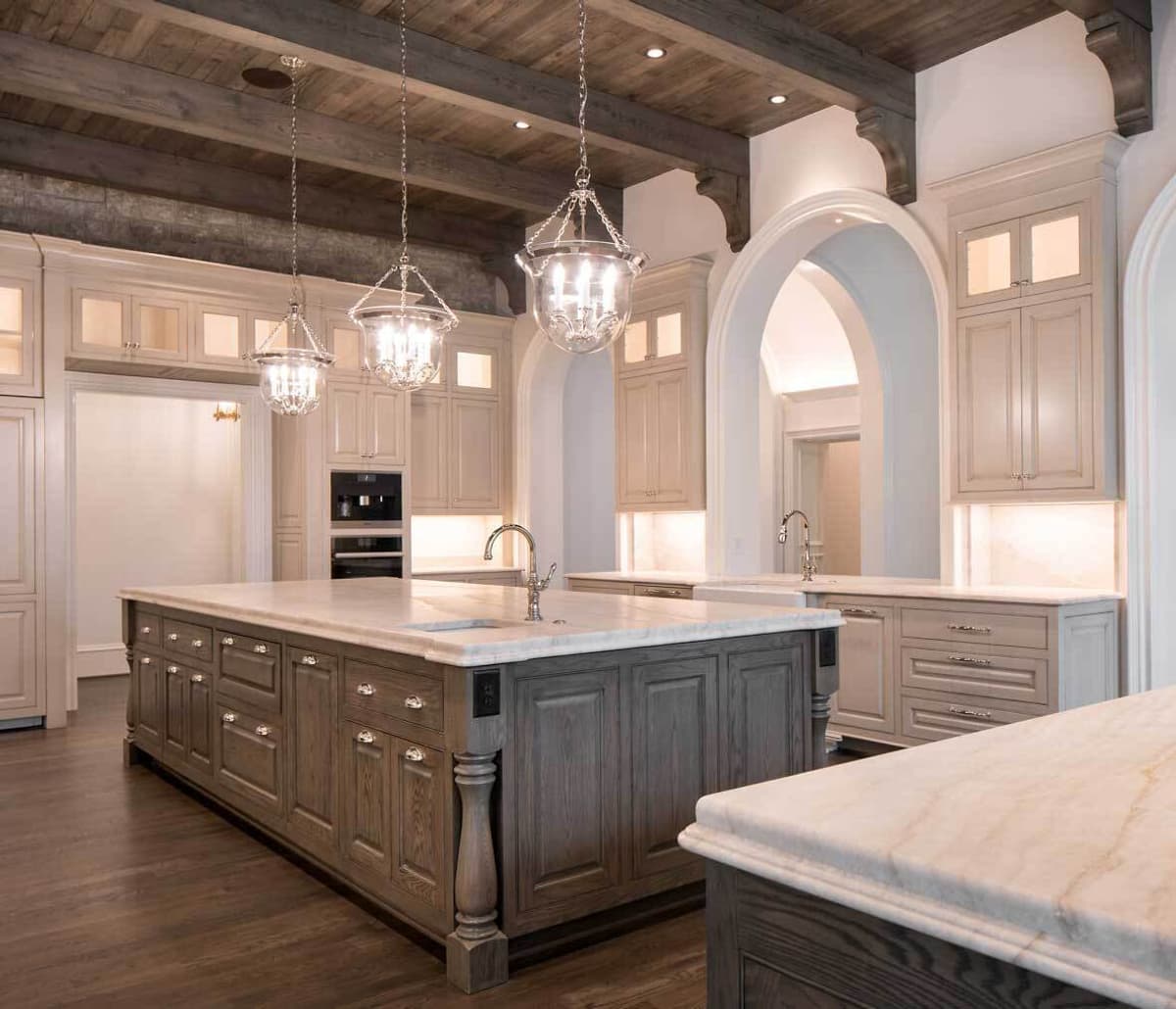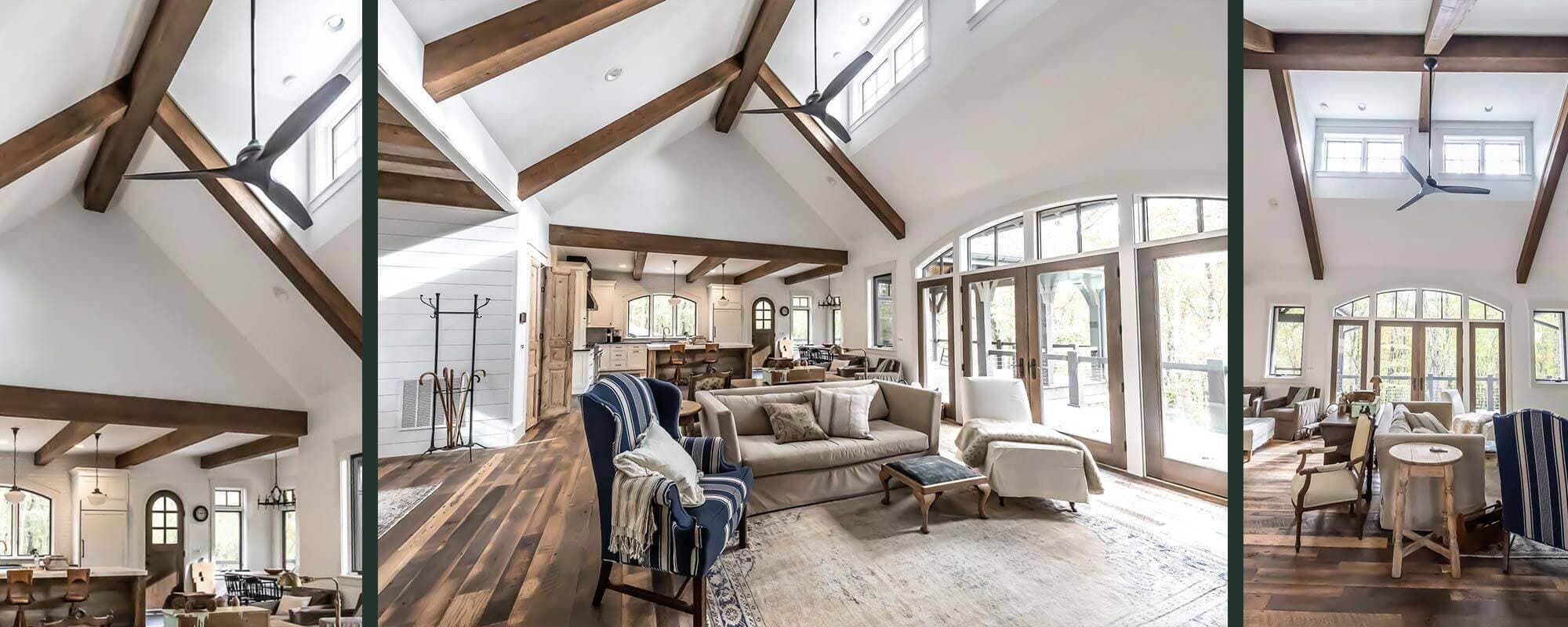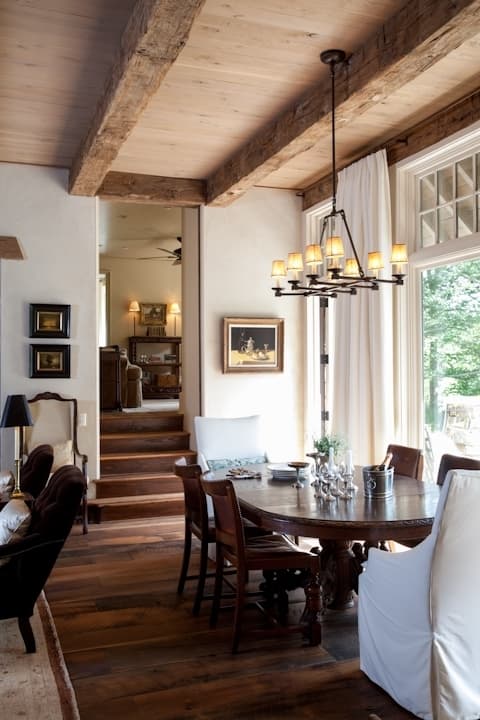 What is a Box Beam?
A box beam is a look-alike solid wood beam that's
lighter
easier to install
can be hung and doesn't need to be supported.
A beam wrap can also be called is a hollow wood beam, can also be purposed to wrap-around steel columns or an exposed or unsightly structural element.
Box beams and wraps are often referred to as faux beams, though many faux beams do not use real wood. All our beam wraps and box beams use the same reclaimed wood as our solid beams to ensure the superior quality and aesthetic that reclaimed wood offers.

Four Surface Textures Available
Circle Sawn
Rustic sawn wood texture has visible circular saw marks and a rough appearance. Also a good choice for a more rustic beam aesthetic.
View Spec Sheet
Request a Quote
Band Sawn
Cutting a timber with a bandsaw leaves rough straight lines perpendicular to the grain on the wood. This is a great rustic texture that is much finer than hand hewn and our process generally shows a bit more of the grain than shown with a circle sawn cut.
View Spec Sheet
Request a Quote
Smooth
The outer layer of the original solid beam is removed to reveal the inner grains, colors, and patterns for our smooth box beams and beam wraps.

View Spec Sheet
Request a Quote
Hand Hewn
Hand hewn beams were cut and hewn with broad axes and simple hand tools many decades and even centuries ago. Hand hewn box beams provide the most rustic aesthetic.
View Spec Sheet
Request a Quote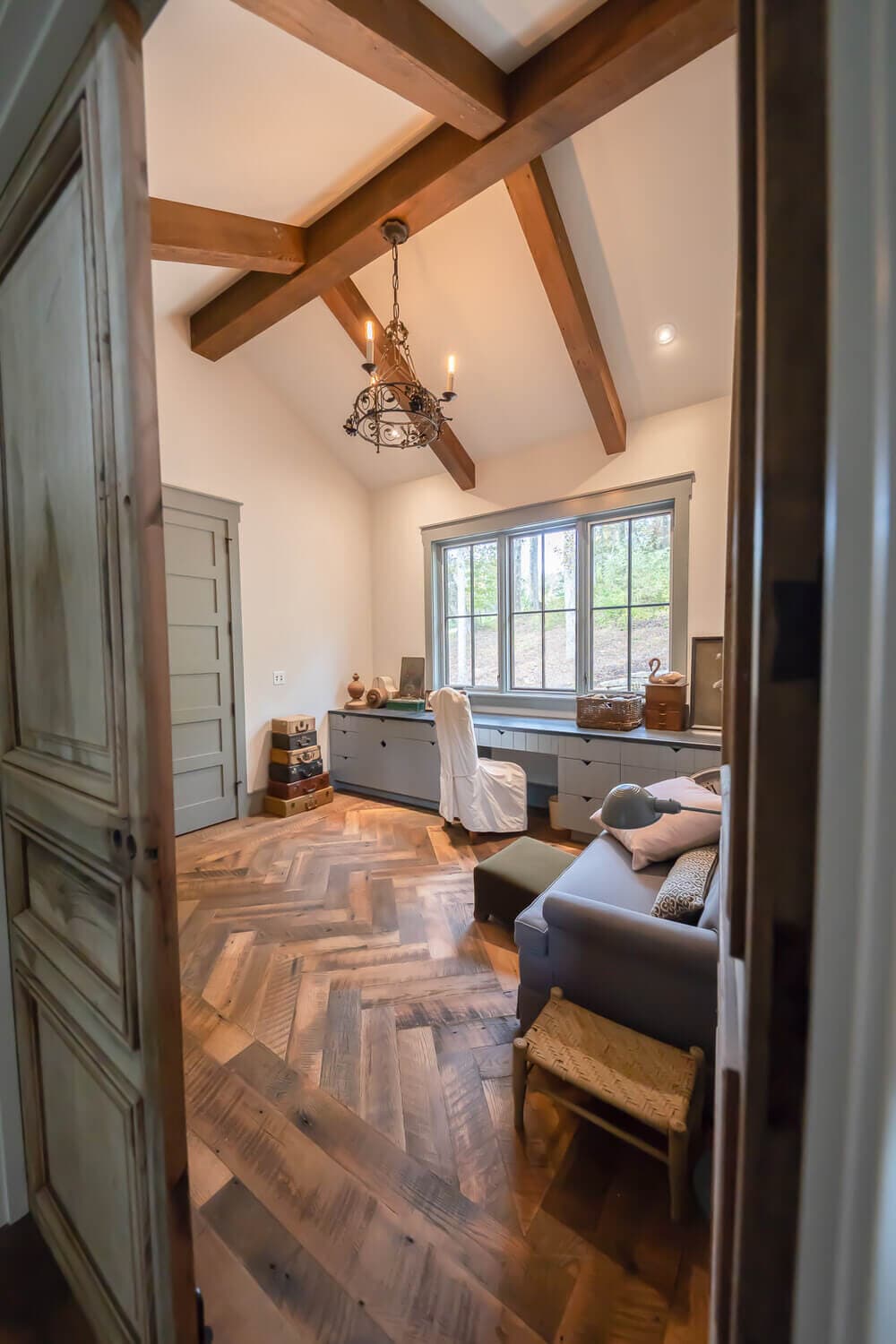 Why Choose Box Beams from Whole Log Reclaimed
Hide Unsightly Interior Elements
Install faux beam wraps around or over existing steel, wood or laminate construction or utility parts. Beam wraps solve tricky situations by covering ductwork, plumbing and other interior challenges you might face.
Solve Unique Challenges
Very long or very wide beam coverage span requirements may present unique challenges that box beams and wraps can resolve.
Our Expertise
With over 35 years in the business, we've worked with hundreds of architects, builders, and homeowners who are happy customers across this country and Hawaii. We're happy to discuss your plans and advise be a ceiling beam guide toward selecting your best box beam or solid option.
BOX BEAM AND BEAM WRAP COSTS
Reclaimed wood and superior craftsmanship come with a higher price point. Additionally, the labor associated with creating the hollow box beams from original old-growth wood makes box beams more expensive than solid beams. (we have to be creative in using the inner area) That being said, the cost savings in labor and installation may justify the additional expense in material cost. Because box beams and wraps are much lighter, they are easier to install (and cost less when shipping), overall reducing labor costs and more.
And remember the increase in home value by tastefully covering up ductwork and utility areas with beautiful architectural accents.

BOX BEAM AND BEAM WRAP INSTALLATION
Box beam installation is more simple to install than solid wood beams. This is a major reason why many homeowners and builders choose box beams over solid beams. While Whole Log Reclaimed does not offer direct installation services at this time, we're happy to support builders to ensure installation is done properly, whether your project is a box beam ceiling or a wood beam wrap to cover ductwork.
View Installation Videos
From product selection > to customization > to installation > to care and maintenance,
Whole Log Reclaimed will be here.